Tooth-colored fillings restore strength and structure to teeth following cavity removal. The fillings match the color and luster of the teeth they treat. Dr. Sherry Vakilian and the team of Dental Solutions of Encinitas is proud to offer the cosmetically pleasing treatment. Many of our Encinitas patients seek tooth-colored fillings as a more attractive replacement for silver amalgam fillings.
What Are the Benefits of Tooth-Colored Fillings?
Dental fillings are one of the most commonly performed restorative treatments we provide. Tooth-colored fillings offer numerous benefits to our Encinitas patients, including:
Affordability: Fillings are one of the most affordable restorative treatments we offer. Many dental insurance providers cover most if not all of the cost associated with tooth-colored fillings.
Restored oral health: Cavity treatment requires the removal of natural tooth structure. Tooth-colored fillings prevent cavities from returning. The composite resin also restores bite balance and prevents temperature sensitivity. If patients do experience temporary sensitivity following tooth-colored fillings placement, those minor side effects typically resolve within a few days after treatment.
Natural-looking results: Tooth-colored fillings are made from a special composite resin that can be color-matched to seamlessly blend with your smile. The fillings are also highly reflective, meaning they will match the luster of tooth enamel. Dr. Vakilian will artfully place your fillings so the material lies flush with the surface of your tooth.
Prevention of dental problems: Tooth-colored fillings are an affordable treatment that can spare your tooth from invasive treatments down the road. By removing decay at an early stage and preserving your tooth using tooth-colored fillings, you can enjoy long-term savings.
To schedule your next visit, please contact our Encinitas dental practice online or by calling (760) 436-9292.
Candidacy Considerations
Age, gum disease, poor diet, and poor oral hygiene habits are all risk factors for tooth decay. If you have a cavity removal scheduled at our Encinitas dental practice, you may be a great candidate for tooth-colored fillings. Dr. Vakilian or a member of our dental team will explain your restorative options. Tooth-colored fillings are a great option when the treatment area is outwardly visible. If your fillings are placed on molars, you may be a better candidate for metal fillings, which are stronger.
A growing number of our patients seek tooth-colored fillings as a replacement for unsightly silver amalgam fillings. If you are dissatisfied with the appearance of any of your fillings, Dr. Vakilian will be glad to replace those restorations with natural-looking tooth-colored fillings.
How Are Fillings Placed?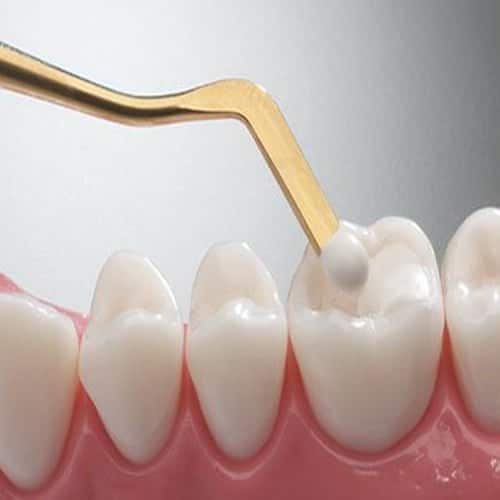 Before your tooth-colored fillings can be placed, Dr. Vakilian will need to remove decay or your old fillings. Once your tooth is prepared, the surface of the tooth will be cleaned. A special etching liquid may be used to ensure that the fillings achieve a strong bond with the tooth surface. Dr. Vakilian will then color-match the composite resin so that it blends pleasingly with your natural teeth.
She will then artfully place the fillings before using a special light to quickly harden the composite resin. The final step involves ensuring that the fillings do not interfere with your bite. Minor adjustments can be made before you are released. A single filling can often be placed in a few minutes.
Schedule Your Tooth-Colored Fillings Treatment Today
Tooth-colored fillings are an affordable and natural-looking treatment that preserves your teeth following cavity removal. We encourage all of our patients to schedule twice-a-year exams and cleanings. Small cavities can often be treated in well under half an hour. To schedule your next visit, please contact our office online or call (760) 436-9292.