Dentures and bridges restore oral function following the loss of multiple teeth. If you have lost an entire dental arch, Dr. Sherry Vakilian can provide you with a custom denture that consists of an acrylic (or similar material) base and a row of false teeth. If you have lost multiple consecutive teeth but still retain natural teeth, you may be a better candidate for a dental bridge. Bridges can be attached in multiple ways. The most common treatment uses neighboring natural teeth to anchor the bridge in place.
Both restorations can be held in place with dental implants. The titanium posts are placed in the jawbone and provide superior support and stability for prosthetics. Dr. Vakilian offers this advanced restorative treatment.
If you have questions about any of our solutions for tooth loss, please contact our Encinitas dental practice online or by calling (760) 436-9292.
Benefits of Bridge and Dentures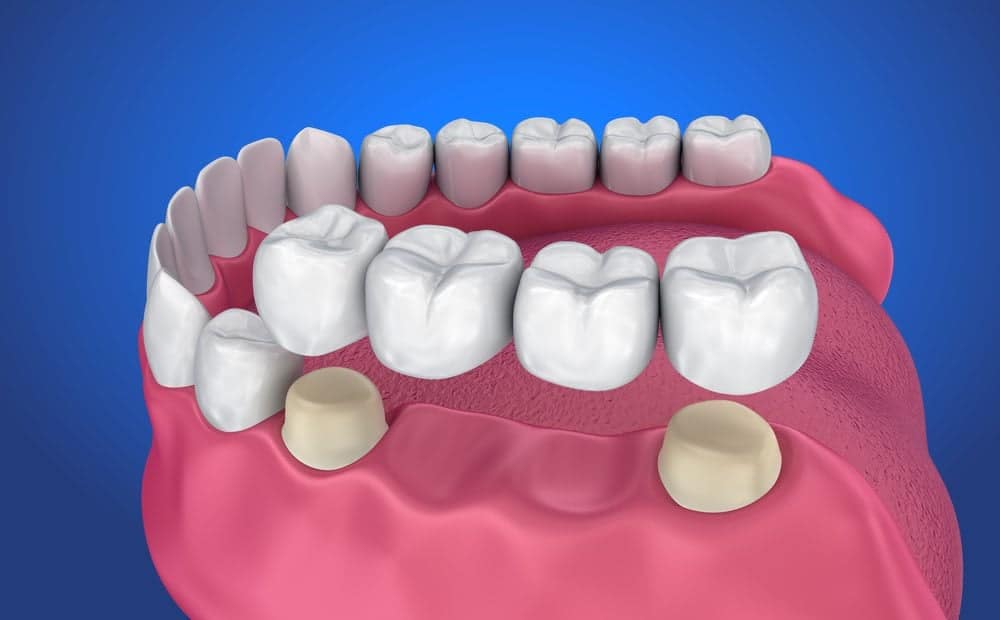 The loss of even one tooth can make eating and speaking with ease difficult. Dental bridges and dentures allow you to chew and speak with confidence. The restorations also fill out your cheeks and leave you looking younger. Although these prosthetics are not considered cosmetic treatments, there are aesthetic benefits to eliminating gaps in your smile. Many of our Encinitas dental patients report feeling more confident after receiving their custom bridge or denture.
If you are seeking an implant-retained denture or implant-retained bridge, there are further oral health benefits. Dental implants are small titanium posts that replace tooth roots. Implants stimulate jawbone growth and prevent jawbone atrophy. Many patients report that implant-retained prosthetics feel and function like natural teeth.
What Should I Expect from My Bridge or Denture Treatment?
The dental experts of Dental Solutions of Encinitas consider a patient's emotional and physical well being the most important priority. At every step of your dental bridge or denture treatment, you will be treated with dignity and respect. Our dentist, Dr. Sherry Vakilian, is a regional leader in the field of restorative dentistry.
Your treatment will begin with a consultation and exam. Images of your teeth, gums, and jaw will be taken and your restorative treatment goals will be discussed.
Bridges
There are multiple ways that a bridge can be placed. A traditional bridge is often placed using two dental crowns on either side of the row of false teeth (pontics). The dental crowns allow the bridge to attach directly to natural teeth. In order to place a dental bridge, part of your tooth's natural structure will need to be removed. This can be done using local anesthesia to ensure that you are comfortable.
Once your tooth has been prepared, an impression of the remaining structure will be made and your custom crown will be fabricated. When your dental crowns are ready, Dr. Vakilian will use a strong bonding agent to attach the crowns at our Encinitas dental practice.
Dentures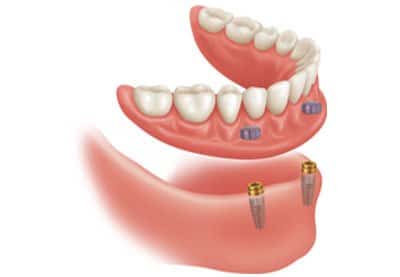 Removable dentures attach directly to your gums using a bonding agent. Our office offers multiple options for removable dentures that can be matched to your needs and budget. If you still have a few natural teeth remaining but the gap in your smile is too large for a dental bridge, you may be a candidate for a partial denture. A partial denture attaches to natural teeth using metal clasps or other attachment devices.
Schedule Your Bridge or Denture Consultation Today
Dental bridges and dentures restore form and function to your smile. If you are tired of embarrassing tooth loss, Dental Solutions of Encinitas has the right restoration to meet your needs and goals. To schedule your restorative consultation, please contact our office online or call (760) 436-9292.