Age, diet, and other factors can leave teeth looking tarnished and discolored. Teeth whitening treatments safely remove stains and leave teeth looking bright and healthy. If you are embarrassed by yellow or stained teeth, Dr. Sherry Vakilian can explain the many benefits of professional teeth whitening treatments. Our office offers in-office and take-home kits.
Candidacy Considerations
Teeth whitening treatments are a safe cosmetic option for adults of all ages. If you have sensitive teeth, let Dr. Vakilian know. She can recommend a customized treatment plan that will allow you to enjoy a whiter smile. Candidates for professional teeth whitening have mild to moderate surface (extrinsic) stains. Intrinsic stains will not respond to teeth whitening. If you have severe enamel discoloration, you may be a better candidate for porcelain veneers or cosmetic bonding.
To schedule your professional teeth whitening treatment, please contact our Encinitas dental practice online or by calling (760) 436-9292.
Benefits of Teeth Whitening Treatments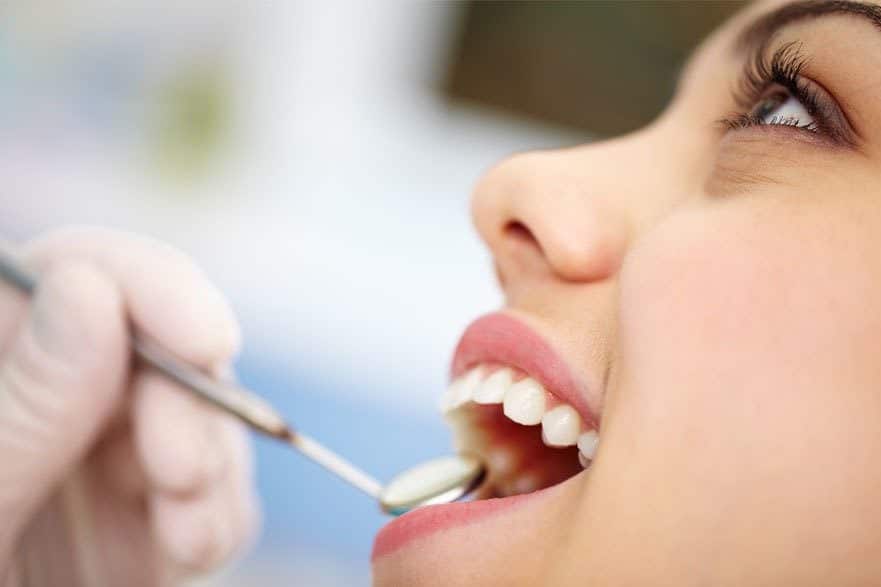 Professional teeth whitening treatments offer drastic results that over-the-counter cleaning kits simply cannot match. Store-bought kits contain two to three percent bleaching agents by volume. Our prescription-strength gels are 20 to 35 percent hydrogen peroxide or carbamide peroxide by volume.
With proper oral hygiene habits and twice-a-year visits to our Encinitas dental practice, you can enjoy the cosmetic results of teeth whitening for three years or longer. Teeth whitening treatments are also one of the few cosmetic procedures that do not alter your tooth's natural structure. The bleaching agents simply lift stains from the surface of your teeth without harming your enamel.
How Will My Teeth Whitening Treatments Work?
Before your teeth whitening treatment can be scheduled, Dr. Vakilian will determine if you are a good candidate for the cosmetic procedure. Candidates should be in good oral health and free from gum disease or tooth decay. During your consultation, Dr. Vakilian or a member of our dental team will describe the difference between in-office treatments and take-home whitening kits.
Both options offer drastic cosmetic results. If you are looking for quick results, you may prefer our in-office whitening treatment. In one hour, you can enjoy a smile that is several shades whiter. Take-home kits are ideal for individuals who prefer to undergo treatment at a time that is convenient for them.
Take-Home Kits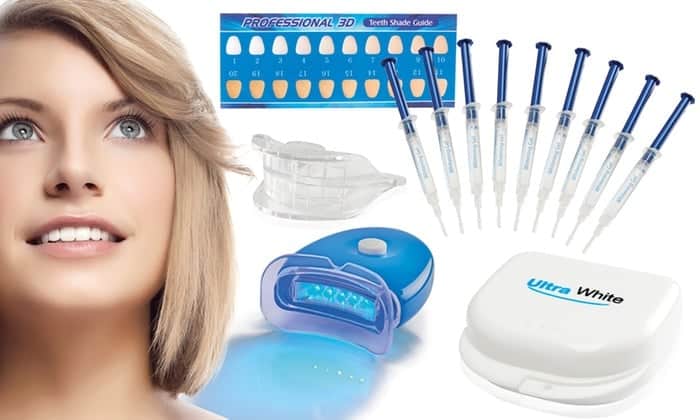 Before you are given a take-home whitening kit, a custom mouthpiece will be made at our dental practice. Once you have your custom mouthpiece, a member of our dental team will give you detailed instructions on how to apply the bleaching agent. Small amounts of the gel should be placed along the bottom of the mouthpiece, and the whitening kit should be worn for the period of time specified by the instructions that come with the gel kits.
Special care should be taken to ensure that the bleaching agent does not come into contact with gum tissue. Take-home kits typically require several treatments. To maintain your white smile, patients can purchase additional gel syringes for periodic at-home touch-up treatments.
In-Office Whitening
In-office whitening treatments are completed under the careful watch of a member of our dental team. A special gel barrier will be placed along your gums to ensure that the whitening gel does not touch the surface of your gums. Then, the gel will be placed and held in place using your custom mouthpiece. A special light may be used to speed the whitening process. Over the course of an hour, the bleaching agent will lift surface stains from your teeth while whitening your smile by up to several shades.
Schedule Your Teeth Whitening Treatment Today
A bright smile can leave you looking younger and feeling more confident. To schedule your professional teeth whitening treatment, please contact our office online or call (760) 436-9292.