Invisalign has become the orthodontic treatment of choice for many dentists and patients. The advanced technology uses clear aligner trays to gently nudge teeth into better alignment. If you are seeking the benefits of an attractive, symmetrical smile but do not want to have to deal with traditional metal braces, Dr. Sherry Vakilian and the dental team of Dental Solutions of Encinitas can fit you with discrete and comfortable Invisalign trays. After as few as several months, you can enjoy the benefits of a transformed smile.
How Does Invisalign Work?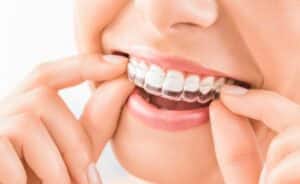 Invisalign gently moves teeth through micro movements. Traditional metal braces require periodic and uncomfortable wire tightenings. Invisalign treatments are considerably more comfortable because the force is spread out evenly across your teeth. New bone grows behind teeth as they move, ensuring that the movements are permanent. Each successive tray is slightly closer in design to your ideal smile. One reason our office works with Invisalign is due to the company's patented SmartTrack material, which closely hugs the surface of teeth to provide superior orthodontic results and unparalleled comfort.
What Are the Benefits of Invisalign?
For many of our patients, the main benefit that Invisalign treatments offer is the ability to undergo discrete orthodontic treatments. When worn, the aligner trays are practically invisible. Invisalign trays are also more comfortable than traditional metal braces, which rely on metal wires and brackets that have to be periodically tightened.
Traditional metal braces often come with strict dietary restrictions. Hard foods can damage brackets while sticky foods can cling to metal wires. Patients who undergo Invisalign treatments have no such restriction. The aligner trays can be temporarily removed while eating.
To schedule your Invisalign treatment , please contact our Encinitas dental practice online or by calling (760) 436-9292.
Candidacy Requirements
Most patients who desire a more attractive smile are great candidates for Invisalign treatments. During your consultation and exam, Dr. Vakilian will determine if Invisalign can address your alignment issues. If you suffer from severe teeth misalignment, you may require traditional metal braces. Candidates should also be willing to adhere to the 22-hour compliance rule. If you are seeking orthodontic treatment for your teen, Invisalign offers special trays that feature a colored button that notifies parents when the trays are not worn for 22 hours per day.
Treatment Overview
Before your aligner trays can be manufactured, Dr. Vakilian will take detailed digital impressions of your teeth. These images will be sent to a certified Invisalign tray manufacturer that will fabricate several or more aligner trays. After a few weeks, your aligners will arrive at our dental practice and your next appointment will be set. Dr. Vakilian will explain how to wear and maintain your new aligners. Special steps should be taken to care for and clean your new trays. The aligners can be cleaned using water and a toothbrush.
You will be given a few trays to take home. New trays will be placed every few weeks, depending on Dr. Vakilian's instructions. Regular checkups will be scheduled to ensure that treatments are moving according to the treatment timeline. Once you have used all of your trays and are 100 percent satisfied with your cosmetic results, a retainer will be made. You will need to wear the retainer at night to ensure that your teeth do not shift out of place.
Schedule Your Invisalign Consultation Today
In as few as several weeks, you can begin smiling with confidence. If you are ready to take the first step toward a more attractive smile, we welcome you to schedule your Invisalign treatment by contacting our Encinitas dental practice online or calling (760) 436-9292.